COREY D TAKES THE WHItE PARTY CHALLENGE
- Buzz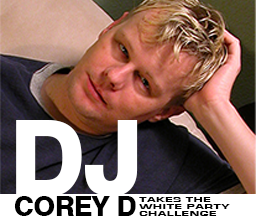 It has been said that true talent has no need for pomposity or ego to precede it. True to this doctrine, the humble, yet charismatic DJ Corey D shares his account of life in California's countryside, as well as his outlook on what makes a DJ great. Often being referred to these days as the first local disk jockey to play at the Palm Springs White Party, he will be one of the DJs spinning at the "Boys Gone Wild" Pool Party at the Wyndham Hotel on Sunday, April 8th...
BUZZ: HOW EARLY DID YOU GET THE URGE TO BE A DJ?
DJ Corey D: It's kind of funny, I was in [junior] high school. I wasn't the "coolest" person. I went to a completely new school than I was supposed to, so I didn't know anybody. I wasn't the jock or anything; I was the guy who had all the music. It was really the one thing I had. And so everyone would invite me to parties because they knew I woud bring music. I started doing remixes when I was about 19. Janet Jackson was doing her [Rhythm Nation] tour. In the town where I was living at the time, the radio station was having a contest where if you remixed one of her songs, you could win tickets to the concert. What I ended up doing, which is pretty common now, was a megamix - a little bit of all her stuff.
BUZZ: WOULD YOU SAY YOU'RE STILL "EARLY ON" INTO YOUR CAREER?
DJ Corey D: I've Spent the past 10 years working in radio ... I always felt like I shouldn't go out and spin at clubs and work on the radio at the same time. But last year I made a conscious effort to start doing it. I missed the reaction of the crowd. On the radio, I'm playing what I like, there's nobody saying, 'Yeah, that's great.' or 'What are you doing, turn that off, it's horrible.'
Honestly I didn't think it would happen as quickly as it has. Before radio, I wasn't really known anywhere - I only played small clubs, weddings; things like that. Now I'm pretty well known through the radio station. But as far as promoters go, I wasn't really part of the DJ scene. So I was really surprised that in the last 6 months, I've done a lot. I think the Billboard Music Conference had a lot to do with that because a lot of industy people were there. Management, record labels, etc.
BUZZ: TO WHAT EXTENT DO YOU THINK THE APRIL 8TH WHITE PARTY IN PALM SPRINGS WILL BOOST YOUR SUCCESS?
DJ Corey D: At first I thought, 'Wow, this is White Party. I'll have to do something great and make it so everybody remembers my name the next day. Then I'll be huge.' My partner gave me the best advice. He said, 'Just do what you normally do, because that's what got you picked in the first place.'
White Party is a big event, and having it on your resume opens doors to other places. I'm just happy to be there. I just want to go and do my own thing - the crowds always seem to like that.
BUZZ: ARE THERE ANY ADDITIONAL THINGS THAT READERS SHOULD KNOW ABOUT YOU?
DJ Corey D: I'm sort of a shy, private kind of person. Whenever I write a press release or someone asks me to do an interview, I feel so ... egotistical. There were about 3 years when I didn't want to tell anyone I was a DJ. In Palm Springs, everyone's is a DJ. Everyone. Then, Pepper MaShay, a good friend of mine, said, 'That's stupid, you need to tell people who you are.'
BUZZ: WHAT'S NEXT FOR YOU?
DJ Corey D: Who knows? (laughing). Right now I'm really just looking forward to White Party. Excited. I usually try to plan out what I'm going to play before I do an event - not every song in order, but I like to have a general idea in what direction I want to take everything. I'm not going to do that this time around. I'm just going to bring everything I have. Depending on what type of crowd it is, I'l go from there.