Palm Springs Art Museum Pulls Out All the Stops for 'Meet the Museum'
- Palm Springs Life Magazine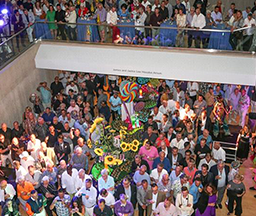 The Mad Hatter, himself, could not have topped the incredible extravaganza enjoyed by Palm Springs Art Museum patrons, visitors and community leaders as they entertained a festive crowd on April 24 for its Tenth Annual Membership Drive and Party, "Meet the Museum."
The event kicked off White Party Palm Springs Weekend, pulling out all the stops, with an elaborate Alice in Wonderland theme encouraging guests to dress in "themed costume or desert chic." Rabbit ears, overcoats coats, and large bow ties were en vogue while fanciful fashions representing Alice and even the Queen of Hearts were on hand. "Her Highness" would be pleased with the turnout as this was definitely an affair fit for royalty.
The VIP lounge hosted its own bar with DJ Corey D. Live It Up Productions gave a mind-blowing performance with its themed musical act that rocked the gallery. Fun was had with Picture Parlor photo and keepsakes featuring Matt Elson's Infinity Boxes of light, color and mirrors. Open bar stations and delicious delectables including a grand Candy Bar by LuLu California Bistro enticed guests to indulge with a presentation to keep the most discerning Cheshire Cat smiling.
Set within the museum, amidst its outstanding collection of art and exhibits, the lively atmosphere was bursting with happy revelers excited to support their favorite museum in their membership drive.Event proceeds benefit museum operations, exhibitions, and education programs. Financial advisor and philanthropist Jim Casey returned to chair the event and his eye for detail, design, and throwing an awesome bash were expertly displayed.
High society, culture, art, as well as some of the finest culinary and show business talent in the region, came together to entertain and light up the desert's social scene with panache. The gathering was the place to be seen, share in the cool vibe, mingle, nosh, and enjoy one of the most fabulous parties of the season.

May, 2015
Michelle Roe